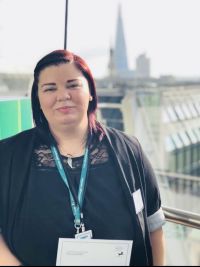 Su G.
Operations Manager (graduated Apprentice)
About Su
Key Experiences
Call centre slacker to project manager
I spent nearly 10 years in the call centres selling every brand/product and although good at it I wasn't interested in the role at all. I completed a level 3 apprenticeship in Providing Financial Services that kickstarted my interest in furthering my education (at the grand old age of 30), I spent 6 months in Belfast setting up a new call centre, training colleagues and providing expert advice to colleagues - this made me realise I was interested in project management.
Couple of years later I've graduated from the Project Management higher apprentice (level 4) which gives me the equivalent to a foundation degree and I've "earnt as I've learnt" - no debt and great qualifications and now I'm in a career path I love!
Current Position
Operations Manager
Oversight of operational changes within the Group (specific to HR) - involvement with colleagues working overseas (USA/Philippines/Singapore/Germany/France to name a few!)
Plenty of analytical work - constantly have an excel spreadsheet on the go...
Main Motivations
Career progression and varied working responsibilities
I get bored easily and luckily my job involves a number of difference responsibilities so I don't work on the same piece of work repeatedly. I find this keeps me more engaged and interested in my work - so I perform better!

I'm also supported in my overall career goals - my manager and team are supportive and I'm also provided time in working hours to work towards these goals. I also support at events that are in line with my overall career goals (working within the Educational programmes in Lloyds)
Top Advice
DON'T BE SHY!
I've found the best way to move forward is to ask questions, don't be shy about sounding silly. Everyone starts at the beginning - even the most knowledgeable person had no idea when they first started!
Greatest Achievement
Completing my apprenticeship 6 months before deadline and my promotion
Even though I had surgery and missed 6 weeks of work I was still able to finish all the required work for the course 6 months early - because of this I was able to apply more time to looking at my next step and making sure I was ready to jump into a role as soon as I graduated. Because of this I graduated one week and started a new role the following week!
Lloyds Banking Group
We're looking for brilliant individuals with the potential to design and lead the Best Bank for Customers.
Visit website